Post by Frankie "FreedomFighter" Jones on Apr 19, 2013 19:47:33 GMT -5
Franklin Alexander Jones
[/font][/size][/color]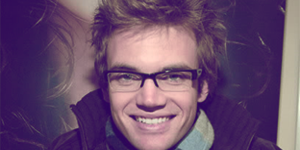 I'm just a boy
Who had to sing this song
.....................................................................
Full Name
: Franklin Alexander Jones
Code Name
: Freedom Fighter
Age
: Twenty-four
Date of Birth
: July 4, 1988
Sexual Orientation
: Bisexual
Species
: Mutant
Alliance
: X-Men
Citizenship
: Marvel, dur
Canon or Original?
: Original
"Victory is MINE Baldy!
And if you had any hair I'd take that too!"
Hair
: Dirty blond, short, usually in varying shades of messy
Eyes
: Blue, average-sized, usually framed by glasses
Height
: 5'10"
Weight
: 180 lbs
Distinguishing Marks:
A few small scars here and there from ridiculous escapades when he was a kid, but nothing huge. The only thing that really sets him out is that he wears glasses.
Appearance
:
Franklin is someone who demands your attention, though not so much because of what he looks like. His looks are actually rather average. He's moderately tall, standing at 5'10". Though he frets over his weight, he's actually pretty fit, most of his so-called 'excess weight' actually going toward muscle as a result of his ability. This isn't to say that his diet hasn't affected him at all - He does have a little pudge around the middle. He wears glasses as well. He almost always has some sort of grin on his face, though what sort of grin varies on his mood.
Face Claim
: Tyler Hilton
"I'm not interested in making new friends,
I don't even like the ones I have"
Likes
:
- Hamburgers
- Food in general
- America
- Airplanes
- Guns
- Technology
- Space
- Coffee
- Aliens
- Disney
- Freedom
- Video games
- Cars
- Talking
- Comic books
- Competition
- Did I mention America?
Dislikes
:
- Feeling stifled
- Silence
- Communism
- Terrorism
- Tea
- Enclosed spaces
Personality:
Hero complex - Probably one of the FIRST things you'll note about Frankie is his glaring hero complex. If he sees someone in trouble or in need of help, he'll jump in immediately. The inherent problem with this is the fact that he fails to understand when people actually want him there and when he's simply poking his nose where it doesn't belong. He just knows that whenever there's a problem, he wants to help, and he doesn't understand why anyone wouldn't want his help. His intentions are good, but his actions don't always convey this. He has a wild imagination, which probably doesn't help matters.
Materialistic - Frankie loves things. He loves to follow all of the latest trends, but doesn't mind getting caught up in a bit of nostalgia too at times. He's amassed various collections over the years. His most prized would be his comic book collection, but he's also collected state quarters, stamps, and video games. He also has a secret love of Disney movies and has quite a few of those as well (but shh, that one's a secret). It also must be noted that every time a new I-phone comes out, Frankie tries to be one of the first in line to get it. He hates to have any of his electronics "out of style".
Impulsive - Acting without thinking? Well that describes Frankie pretty well, doesn't it? It's not that he doesn't think, it's just that the thinking tends to come after the acting. Frankie is very excitable when he gets an idea in his head, which usually results in a 'do now, think later' sort of attitude. Which is great when it actually works out, but often times causes more harm than it does good. It's one thing when you jump into making the next I-phone purchase, but another when you jump to conclusions in investigations before taking everything into consideration.
Bossy - Frankie likes to be in the driver's seat whenever anything is going on. Unfortunately, as with many other things, he often doesn't take others' opinions into consideration before he acts.
Optimistic - One of Frankie's better qualities is his ability to look at the glass half full. If everyone is feeling down and out, he'll probably be the last person left cheering for what little hope is left. It's not always a realistic attitude, mind, but at least he's not liable to give up easily. Even he has his limits, though, and the flip-side of this is that, if he DOES happen to shift to a pessimistic viewpoint on something, it's difficult as hell to get him out of his funk.
Insecure - He's a lot more insecure than he likes to let on. Much of his boasting and arrogance is actually bravado. He's a young kid who's into some pretty big stuff, and though he finds it exciting, it is a bit nervewracking at times. More so, he's terrified of being given that responsibility only to let someone down. He hasn't screwed up badly yet, but that doesn't mean the worry isn't ever present in his mind.
"With great power comes great responsibility"
Powers
:
Strength - Franklin has extraordinary physical strength, to the point of being able to lift and/or move things far above the normal human weight limit. This also means that he can withstand more force being exerted on him than most.
Weapons
Gun - Frankie usually has some sort of gun on him. His father was involved in the military and he grew up around guns, so it's just kind of second nature to him to have one around (plus super strength doesn't get you very far when the other side has multiple guns pointed at you).
Strengths/Abilities
:
Determination - No one can accuse Frankie of not having determination. When he's determined to do something, he'll do everything in his power to make sure he succeeds at his goal. Doesn't always mean he'll succeed, but he'll try.
Optimism - Frankie is usually a positive sort of guy. It takes a lot to actually bring him down for the count (though mood swings are more common than most think - he tends to bounce back extremely quickly though).
Super human strength - Obviously, his super human strength would be considered a strength, right? XD
Shooting - Frankie's pretty decent with a gun in his hand, although no prodigy either. He's about as good as anyone trained in handling a gun would be, but he still considers it a skill set.
Weaknesses
: (at least 2)
Loud - If you're in a room with Al, chances are, you'll know he's there. He has some very attention-whorish tendencies, and loves it when the attention is focused on him. As expected, many people see him as obnoxious and bigmouthed as a result (not that they're entirely wrong).
Easily distracted - While he's a force to be reckoned with when he's serious about something, in every day life Frankie is easily distracted, especially if the subject matter is something he's not particularly interested in. In other words? He could carry on a conversation all day and night about space and aliens, but if you want to talk about global warming? Unless you want to listen to him ramble on about Globa-Man (and most don't), he's liable to drift off very easily.
Also, concerning his ability - Just because he has super strength does not mean he's indestructible. It does make him more resilient against attacks that use sheer force, because obviously he can counter that force himself, but he has your typical human vulnerability to stabbings, gunshot wounds, etc. In addition, if he's distracted, he can sometimes 'lose control' of his ability. This has resulted in injuries and broken items before, especially if he gets overly excited. Oops.
"All it takes is one bad day to reduce
the sanest man alive to lunacy,"
History:
Born on the 4th of July as one of two children to the Jones family, Franklin's temperament was discernible almost as soon as he left the womb (arguably before that, if his movement in his mother's stomach was any indication). He was a loud baby, though one who clearly knew how to communicate what he wanted. His mother managed to figure out his cries within the first couple of weeks. He was also on the move even from this young age, often squirming in his parents' arms as if he wanted to climb right out of them and explore.
Once Frankie learned to walk, he did just that. He was also into just about everything he could get into. His parents were ever grateful for the extra effort they'd put into childproofing the house. Once he learned to talk in full sentences, he was constantly bombarding his parents with questions. Even though Frankie was turning out to be quite a handful, it was clear that he was at the very least a precocious little boy, and one that had big dreams.
Frankie had a good childhood. His family was neither rich nor poor, the quintessential American family. His father was involved with the military, his mother a paramedic. Another interest Frankie held from a young age was in superheroes, and heroes in general. Helping people just always appealed to him in general, and superpowers on top of that? Well, that would be the bomb!
Unfortunately, superpowers appeared to be in short order.
It was in high school that Frankie developed an interest in becoming a cop. It seemed like the perfect fit for him. If he couldn't be a superhero and fight crime that way, why not fight crime the old fashioned way? As it turned out, though? He didn't have to worry about that at all.
One day Frankie was watching his father and his father's brother Sam cut down a dying tree near their home. Apparently there was a miscalculation in how the tree was to be cut to minimize issues (hence why you should call a professional kids, but that's neither here nor there), and the tree careened toward his uncle immediately. Frankie sprang into action without thinking, pushing his uncle out of the way and turning toward the tree in a fruitless attempt to keep it from crushing him.
Or...it would have been fruitless if most anyone else was under that tree.
Instead, when Frankie opened his eyes after feeling a weight against his hand, he discovered that he was propping the tree up with his hands alone. He was stunned, so stunned that he very nearly dropped the tree in surprise. Fortunately he did not, and that just left figuring out what to do from there.
What
were
they to do? Clearly no one in the family was going to betray Frankie, and as far as they knew there were no witnesses, but Frankie obviously had some sort of gift - and he clearly needed help with it. Even tasks as simple as opening a doorknob might be judged wrong, with the doorknob coming off in Frankie's hand.
The answer came in Xavier's School for Gifted Youngsters, where Frankie learned how to control his ability and maintain a somewhat normal existence with it. There were slip-ups, of course - probably more slip-ups than most of the staff likely wanted, but it was far better than how he first started off, and that was good enough for them. Once he was finished with school, he decided to join up as a rookie member of the X-Men, where he's been ever since.
"Next time guys, we should just
rebuild this place outta Lego."
Writing Sample
:


Four more states. Four more states had seceded. Lincoln had suggested that calling 75,000 volunteers to aid against the rebellion would put an end to it, and Alfred agreed with him, because what better than a quick end to this before it got more out of hand than it already was?

Problem was, Alfred rarely thought of the consequences before he acted. Of course such an action was seen as an act of war, and that it certainly was not going to end that easily. Four more states seceded from the Union within one month. Alfred wasn't sure if he could describe that peculiar feeling of emptiness to anyone. Other countries had gone through civil wars, right? Was this something they all experienced, or was this something unique to him? He didn't even want to think about it. He just wanted to distract himself. If it wasn't the emptiness, it was a vague feeling of dread.

He'd taken to distracting himself with letters. He hadn't ventured out of the house much in the past few weeks, and thus his only connection with the outside was through correspondence. He was in the process of penning a letter to President Lincoln when a voice cut through the air.

"Well hello there. Didn't think you could avoid me forever, did ya?"

Alfred tightened his grip on the writing utensil within his hand. It was a wonder that he didn't break the thing, especially taking his strength into consideration. He clenched his teeth, letting out his next statement in a low growl. "Go away. You don't exist."

The owner of the voice laughed. It was a taunting laugh, one that made Alfred's blood boil just hearing it. "Don't exist? C'mon Alfie, we've been through this already. Not only do I exist, but I'm more powerful than ever! Virginia, Arkansas, Tennessee, and North Carolina...tell me, do you miss 'em yet?"

That was one step too far. There was a loud crack as Alfred threw the two pieces of his writing utensil down, turning toward the source of the voice. "With all due respect...you can go to hell."

His doppelganger smiled, moving forward toward Alfred. "I don't think so, North. See, I'm hardly the type to go down without a fight." Alfred wanted to wipe the cocky smile right off of his doppelganger's face. Their features were so similar, with a few scattered differences. Both men had blue eyes, but the blue in Alfred's eyes was accented, while his doppleganger's eyes had an unmistakable grayish hue to them. More noticeably, where Alfred had a prominent cowlick near the front of his head, his doppleganger's hair laid flat. To top it off, a pair of glasses were settled on the bridge of the doppelganger's nose, noticeably absent from Alfred's own visage.

The man was now less than a foot away from Alfred, and Alfred reacted instinctively. His fist collided with his doppelganger's nose, and his doppelganger stepped back. Alfred watched as the other man cradled his injured nose, his fingers taking a reddish tinge. An amused grin came across Alfred's face once he saw that he'd successfully broken his adversary's nose. His triumph was short-lived, however, as his doppelganger came flying at him.

The fight soon erupted into an all out brawl within Alfred's sitting room. At least a few objects ended up broken in the melee (including a rather nice vase given to Alfred by Martha Washington - this resulted in a black eye). One blow in particular sent Alfred to the ground. Preparing to ascend to his feet and join the fight once more, Alfred was surprised to find a foot on his chest, pinning him to the ground - And the barrel of a gun pointed straight at his face.

Alfred shot the other man a glare. "That's not fair, bringing a gun to a fist fight."

The doppelganger laughed, a laugh that sounded eerily like his own. "Whoever said I was playin' to be fair? I'm playin' to win. And it looks an awful lot like I'm winnin' right now, don't ya think?"

Alfred never had the chance to answer. At this moment, both parties heard a knock, drawing their attention from each other toward the door. "Shit..." Alfred muttered, his eyes going wide.

The other man let out a throaty chuckle. "My my, you didn't tell me you were expecting visitors, North! Who is it? If it's Lincoln, I'd like to give that that bastard a piece of my mind..." Alfred didn't like the way that his doppelganger looked at his gun as he said this. At all.

"It's...nobody. They can come back later..." How could he forget that he'd invited Danii over today? How could he let Danii see this?

"Where are your manners, North? I say we let 'em in." The man proceeded to raise his voice. "Come on in!" He called out in his characteristic Southern drawl, before looking back down at Alfred. "This oughta be a fun little meeting, don't you think? I look forward to meetin' all of your friends! I must say, your Southern sta...ah, I should say, former states absolutely love me."

A fun little meeting indeed. For, to the bystander, there were not two men in the sitting room, one sprawled on the ground and one pointing a gun menacingly in the other's face. Instead, the bystander would see one man, with a broken nose, black eye, and various other cuts and bruises sprawled out on the floor, pointing a gun to his own head.
"I'm through talking, get out of my cave,"
Your name/alias:
Mandee
Timezone:
EST
Template created by chainedANGEL of CAUTION! 2.0. Please leave the credits intact and do not rip and claim as your own.